Work Out and Give Back
CrossFit CSA =is proud to announce that we are hosting a memorial benefit WOD to honor CHP Officer Andrew Camilleri Sr.
On the evening of December 24th, Officer Andrew Camilleri Sr. was killed in the line of duty. Officer Camilleri's cruiser was struck by a drunk driver, who was also under the influence of marijuana, while parked on this side of the freeway. Officer Camilleri was only 33 years old. He joined the California Highway Patrol as a cadet on August 27, 2016. He graduated from the academy on March 3, 2017, and was assigned to the Hayward Office. Officer Camilleri is survived by his wife and 3 children (two sons, ages 2, 6 and his daughter, age 11). Officer Camilleri gave the ultimate sacrifice, while upholding his oath to protect and serve...[More Information].....
Help a Member of the Crossfit Community by Donating Today!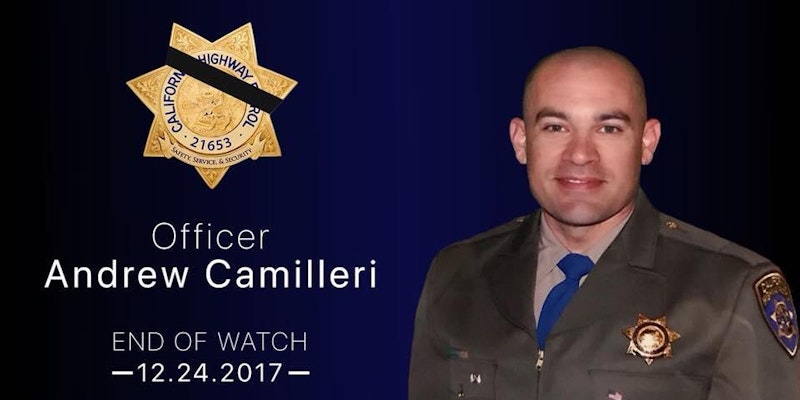 About Us
Welcome to CrossFit CSA, a passionate community of coaches and members who believe fitness is about one thing, RESULTS! Working out shouldn't waste your time and life is too short to not have fun while your doing it! Utilizing the CrossFit methodology of fitness and nutrition, we strive to bring the reality of elite levels of fitness to the masses. CrossFit CSA is for everyone regardless of fitness level; our programs are scalable and adapted to the individuals skill and ability level. Our members are our biggest asset and we strive to foster a nurturing, caring community of CrossFit enthusiasts.
We are not your typical gym. We are a fitness facility. At CrossFit CSA we strive to break away from the current, flawed fitness model we see so prevalent in America. You won't find mirrors, fancy machines, or a juice bar. What you will find are all the tools necessary to build elite levels of fitness. In most gyms, these tools are relegated to a dark, dusty corner; at CrossFit CSA the barbell is king, the pull-up bar is queen and dumbbells, rowers, kettle bells, box jumps, wall balls, rings, climbing ropes, a place to run and other "basic" and "old-school" fitness implements are cherished above all else.
Latest Workouts
"Filthy Fifty" For time: 50 Box Jumps, 24/20 in 50 Jumping Pull-ups 50 Kettlebell Swings, 35/26 lbs 50 Walking Lunges 50 Knees To Elbows 50 Push Press, 45/35 lbs 50 Back Extensions 50 Wall Balls, 20/14 lbs 50 Burpees 50 Double Unders ** Instructors please use a 30 min cut off *** The scale option […]
Teams of 2: 5 rounds for time of: Run, 400 m 50 Kettlebell Swings, 70/53 lbs 20 Toes-to-bars Teams of 2 MUST RUN TOGETHER Holding a rope
Every 4 mins for 24 mins do: 12 Assault Bike Calories 6 Box Facing Burpee Box Jump Overs, 24/20 in 12 Assault Bike Calories Men 12 cals women 9 cals IF using a rower men 15 cals women 12 cals
See all workouts
Contact Us
6400 Sierra Court, Suite A, Dublin, CA 94568